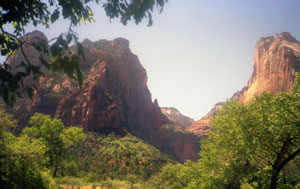 While access roads provide a scenic route through much of the area, hiking is the best, and in many cases, the only way to see Zion National Park. There are a variety of trails available, from scenic strolls to challenging multi-day excursions. Popular day-hikes include the Emerald Pool Trail, which winds through a forest of maple, oak and cottonwood trees, past numerous waterfalls, to the picturesque Emerald Pools. A more strenuous day-hike is the popular Angels Landing Trail, which climbs 1,500 feet to a summit that provides spectacular views into Zion Canyon.

Zion Park also provides many backpacking possibilities. A permit is required for all over-night hikes and most of the terrain is rugged, but the scenery is definitely worth the effort.

Rock-Climbing is another popular pastime in the park. The tall sandstone cliffs throughout the canyon provide challenging routes and it has become a Mecca for technical climbers, though much of the rock is loose and requires the climbers to place their own protection. Because of this, rock climbing in Zion is most suited for expert climbers.

To truly experience the magnificence of Zion National Park be sure to follow the Riverside Walk up the Virgin River. The paved trail is only about 2 miles long and there are many trailside exhibits and hanging wildflowers along the way. Following the Riverside Walk places you at the beginning of the Zion Canyon Narrows where the pavement ends. From this point, hikers can continue upstream where the canyon walls are only 24 feet apart and measure more than 1,000 feet high! You will want to bring a good pair of hiking boots and be prepared to get wet. Much of the canyon is too narrow for side trails, forcing the hiker to wade into the river over slippery rocks. A permit is not required for day-hikers but you will want to check the weather forecast and speak to the park rangers before venturing into the canyon, as flash floods are common.

For the more adventurous hikers, a 16-mile trail through the Narrows is available. The Narrows is not your average backcountry hike. Located at the North Fork of the Virgin River, the Narrows trail is situated in a 1,000 foot-deep chasm that narrows to less than 25 feet in many places. This is truly an amazing hike that is highly recommended. The "trail" takes you through waterfalls, hanging gardens, and beautiful carved sandstone arches. The canyon is a cornucopia of sights, sounds, smells and colors that defy explanation.

Popular activities in Zion include:

Hiking - Zion offers many trails ranging from short "leg-stretcher" walks to strenuous adventures.

Wildflowers & Fall Colors - A variety of life zones and habitats makes Zion an excellent location for wildflower walks in spring and brilliant leaf color in autumn.

Photography - Zion offers the photographer many opportunities to explore color, texture, and light.

Birdwatching - Zion is home to 271 species of birds. Bird checklists are available at the visitor centers.

Bicycling - The Pa'rus Trail offers a paved, car-free alternative for bicyclists to connect with the Zion Canyon Scenic Drive. Shuttle buses are equiped with bike racks.

Ranger-led activities - Join a Park Ranger to learn more about Zion National Park. Topics include animals, geology, plants, human history and more. Programs include Ride with a Ranger shuttle tours, guided hikes, daytime talks and evening programs at Watchman Campground and Zion Lodge. All programs are free. Check the weekly schedules posted at visitor centers and bulletin boards throughout the park for times, places, and subjects.