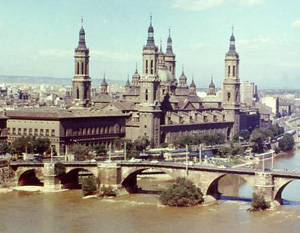 Zaragoza's strategic location at the centre of the northeast corner of Spain has enabled it to develop into a dynamic business centre which hosts regular international trade fairs and conferences.

The city is the headquarters of the Aragonese government which is based within the magnificent Aljaferia Moorish palace (the most beautiful of its kind outside Andalucia). The 11th century palace was built by the Arab invaders to provide protection for their sultan in sumptuous surroundings. It's a fairytale castle which was once home to the Catholic monarchs King Ferdinand and Queen Isabella and is now a national monument.

Like the more famous Spanish city of Santiago de Compostela, Zaragoza is an important destination for religious pilgrims who have journeyed here for centuries to worship at the Basilica de Nuestra Señora del Pilar. The 16th century takes its name from the pillar on the banks of the River Ebro where the Virgin Mary reputedly appeared before St James and commanded him to build a church.

One of Zaragoza's greatest claims to fame is that it produced one of Spain's finest ever painters, Francisco de Goya who was the last of the old masters and widely regarded as the Father of Modern Art. Goya was born in 1746 in the village of Fuendetodos about 25 kilometres south east of the city. His frescoes adorn many of the historic buildings in and around the city and some of his most important works are on display in local museums.