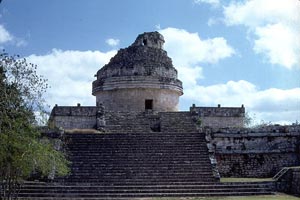 Mayan archeological sites. Yucatán is home of several famous Mayan archaeological zones. The best known and most widely visited by tourists is Chichén Itzá, the site of the Kukulcan Pyramid, the Maya Observatory, and the Sacred Cenote. A contrasting cultural style, more ornamental, can be observed at Mayan sites along the Ruta Puuc. The most famous Mayan sites in Quintana Roo are located at Coba and Tulum.

Ecological Parks: The Yucatan Peninsula is site of several Ecological Parks, like Xcaret, Xel-Há and Garrafón; aimed for the conservation of the flora and fauna of the region, which serve as well as tourist attractions. At these parks you can know more about the Mexican culture, and also enjoy several activities as swimming with dolphins and snorkeling.

Reef diving and snorkeling. The Mesoamerican Barrier Reef, the second largest coral reef system in the world, lies offshore in the Caribbean east of the Yucatan. It extends all the way to the Bay Islands of Honduras.