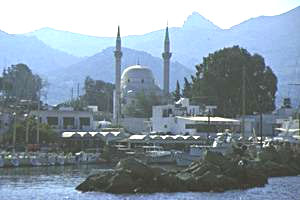 The beaches here are very long, starting slightly out of town. They are narrow, with earth-coloured sand mixed with shingle. Another, not as good, lies to the South.The sea is generally clean, and bright blue.

There is not much variation for tourists in this resort, mainly souvenirs and tourist supplies.There is a post office, bank and chemist. All provisions and groceries can be purchased from small local shops There is a large fruit, vegetable and clothing market every week.

Entertainments in the daytime consists of mainly the beach, but activities/excursions are provided by hotels.

In the evening the nightlife is mainly bars, some hotels have their own discos, but the resort is generally quiet. Stunning sunsets provide one of the major forms of evening entertainment.

There are many restaurants serving good fresh fish in relaxed atmosphere by the harbour. Simpler restaurants inland are less pricey.