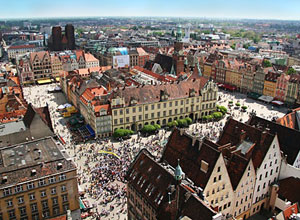 The Rynek (or central square) - is the architectural centre-point of Wroclaw, and its most obvious attraction. It is one of the biggest town squares in Europe, and is lined on all sides with photogenic and interesting buildings. Centre of tourist life, place where tourists drink beer.

Cathedral of St. John the Baptist - Dating from the 13th century, featuring stunning architecture and the largest church organ in Poland.

Racławice Panorama - Perhaps the most-visited tourist site in Wrocław, it consists of a large canvas painting wrapped around a viewing rotunda. It creates a 360 degree view of the Battle of Racławice (1794) between Russian troops and Polish insurrectionists. Visits are conducted in tour groups roughly every half-hour and foreign-language audio guides are available.

Town Hall - Construction of the town hall began in the 14th century. It was one of the few major buildings in Wroclaw to survive World War 2, and it now serves as the Museum of Burgher Art. The interior features stunning Gothic interiors.

Ostrow Tumski - A group of islands on the Oder River with beautiful Cathedrals and a few hundred year old buildings.

St. Elizabeth's Church - On the NE side of the Rynek, this is a large and imposing medieval building with a 90m high tower with spectacular views over the old town.

Eastern Park - Is located on the bank of Oława river is a masterpiece of design, but left forgotten for decades. After few years of restoration it's now a true gem especially worth visiting in April when wetland flowers are blooming or autumn when vegetation turns into picturesque blend of reds, yellows and gold.