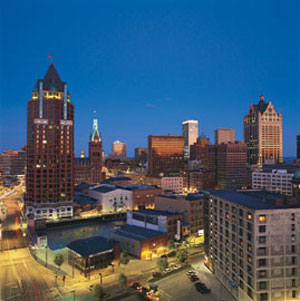 Indoor Waterparks - Home to the largest collection of indoor waterparks in the country, Wisconsin thrills even when the temperature chills. The best part is that it just keeps getting better. With new facilities and features opening every year, the daring water slides, elaborate pools, interactive water activities and inventive rides make waves with every visit. Two new ones that opened this year include Sheboygan's Blue Harbor Resort , which brings 40,000 square feet of indoor waterpark excitement to the shores of Lake Michigan, and Wausau's Lodge at Cedar Creek , which at 50,000-square-feet is one of northern Wisconsin's largest. Known as the birthplace of the indoor waterpark trend, Wisconsin Dells continues to offer the largest and most impressive collection of indoor water wonderlands in the country.

Spas - As the darkness and chill of winter settle in, Wisconsin's spas offer refuge for individuals to restore peace, balance and beauty to their minds, bodies and spirits. A number of world-class spas are located throughout the state and offer a variety of services and treatments that pamper both body and spirit. Spend several days immersing yourself in a destination spa experience like the renowned new Sundara Spa . Or take advantage of spa services at many of the world-class resorts located throughout the state such as The American Club, Grand Geneva, Abbey Resort, Kalahari Resort or Great Wolf Lodge.

Brewery Tours - With names like Miller, Huber and Leinenkugel's carrying on the traditions of Pabst and Schlitz, Wisconsin continues to be a place where the brewing industry thrives. Not limited to big name breweries, Wisconsin's extensive lineup of microbreweries keeps the proud heritage of the home-grown brewers alive and well. Several small breweries and industry giants across the state offer tours where visitors can view first hand the process that creates Wisconsin's rich variety of fine beers.

Cheese Factory Tours - No trip to Wisconsin would be complete without a visit to a cheese factory. We lead the nation in cheesemaking and many small, family-owned and operated factories specialize in award-winning varieties. Visitors are welcome to take tours, view the process through observation windows and, of course, take home some cheese as souvenir.

Casino and Gaming Facilities - Wisconsin's 11 Indian tribes offer exciting casino gambling and bingo throughout the state. Visitors can find high stakes bingo, video poker, slot machines and blackjack tables grouped in modern, spacious surroundings. Many of these casinos are coupled with restaurants, lounges and hotels in a single complex.

Performing Arts - From Wisconsin's northernmost county to its southern border cities, performing arts ensembles are entertaining audiences in record numbers - and it isn't hard to understand why. The state offers an incredible variety of nationally and internationally acclaimed performing arts, including original musical theater, touring Broadway productions, opera, symphony, Shakespeare and African dance.