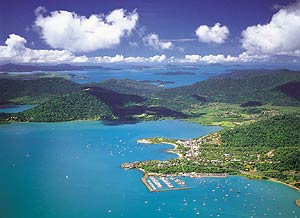 Don\\'t miss the opportunity to see something truly remarkable. Fly over the blue expanse in a seaplane or helicopter for a birds-eye view of Heart Reef. A naturally formed heart shaped reef can be seen and believed to be Mother-Natures way of saying \\'from the reef with love".

Fast catamarans depart daily from the mainland and island resorts to the outer reef where you can snorkel, dive or view the natural beauty of spectacular coral and tropical fish from a semi-submersible vessel.

Discover your private section of the reef aboard your own bareboat yacht or join a day tour to the Outer Great Barrier Reef.

The Whitsunday region, famous for its tropical islands and smooth blue waters is yet another stepping stone to a myriad of Great Barrier Reef adventures.

In terms of restaurants, with the exception of Hamilton island, and the Hayman, the Resort islands each have one or two restaurants at most. The Whitsundays \\'Gateway\\' has a wide range of dining choices through French, Swiss, Chinese, Thai, Mexican, Italian & Japanese to good old Aussie Steak & Seafood.