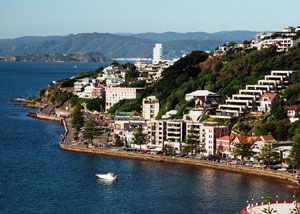 Wellington is situated on the southern tip of the North Island of New Zealand.

Entertainment/Facilities/Attractions/Things to do:

Central Wellington is only 2 kilometres in diameter, you can walk from one side to the other in under 20 minutes.

Wellington Airport is the busiest in New Zealand for domestic scheduled flights and is only 15 minutes drive from central Wellington.

Wellington Zoo is the oldest in New Zealand.

The Old Government Buildings are the largest wooden buildings ever constructed in the Southern hemisphere.

Te Papa has been described by the Washington Post as "one of the most ambitiously eclectic museums in the world".

Wellington has more restaurants, bars and cafes per head than New York with over 350 eateries.

Wellington is the culture capital of New Zealand. It is the home of the Royal New Zealand Ballet, the New Zealand Symphony Orchestra, National Opera and the National dance and drama schools who all perform regularly.

Three professional theatres offer audiences a range from alternative to Pacific Island, New Zealand or international productions. There's a live show every night in Wellington.

Wellington's central business area is divided into four quarters. These reflect the city's four distinct flavours. All are within easy walking distance of each other.

There is concentrated shopping and indulgence in the Lambton Quarter, intellectual and lifestyle shopping in the Willis Quarter, funky and innovative shopping in the Cuba Quarter and sheer entertainment in the Courtenay Quarter.