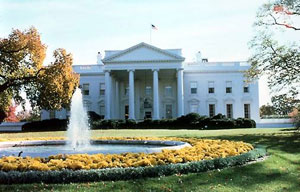 Worth a visit in the area is the town of Baltimore home of the National Aquarium and numerous other sites of historic interest.

Also worth a look for history buffs is the 'Historic Triangle'. This comprises the towns of Yorktown, Jamestown and Williamsburg; these three sights give a real insight into colonial life under the British.

For natural beauty there is the Blue Ridge Mountains, the Shenandoah Valley, the Allegheny Mountains and Chesapeake Bay. Richmond, Annapolis, Charlottesville and New Castle are all towns that are worth taking in whilst in the area.

The White House - Standing at the edge of the Mall facing the Washington Monument this has been home to the President since 1800. Each president has added to or altered the building, which was originally designed to mimic grand Georgian houses in Dublin.

The Washington Monument - The top of the monument at 555 feet is the highest point of the city. Made of marble this is the tallest masonry structure in the world.

The Lincoln Memorial -The famous statue of the seated Lincoln is housed in a Greek style temple adorned with 36 columns.

Jefferson and FDR Memorials - The area known as the Tidal Basin is lined with Japanese Cherry trees, these are glorious in the spring. The Basin was designed to prevent he Potomac from flooding the Jefferson and Lincoln Memorials.

Arlington Cemetary - This cemetary is famous for its memorial to JFK and the other Kennedy brothers, all of whom were buried here.

Compared with many other cities in the US, Washington is not a great place for bars and clubs. There are many to choose from but they tend to be busy at evening rush hour and then quiet even at weekends.

There is a wide choice of places to eat but prices tend to be a little higher than elsewhere in the States. Keep an eye out for the 'food courts', these are fun and quite cheap places to eat but they tend to be very busy during the week.