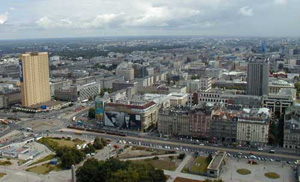 A great number of various restaurants offer traditional Polish food which enables tourists to discover old Polish dishes as well as cuisine from different parts of the world.

There are also cafes, pubs, night clubs and discotheques.

The History Museum is one of the best of Warsaw's museums. Its three-stories are crammed with fascinating exhibitions covering every aspect of Warsaw's history and life.

Known as the Royal Way, this two and a half mile (four kilometre) route stretches from the Royal Castle in the Old Town to the stately King's palace at Wilanów on the outskirts of the city.

Although many people give scant regard to Warsaw as an appealing tourist destination, it is still Poland's largest city and the political, economic, scientific and cultural hub of the country. It has many museums and historical monuments, galleries and historic attractions, a variety of restaurants and open-air cafes, and an energetic nightlife.

With green open spaces and classical music concerts, this modern bustling city is a far cry from the severe Communist-era images of post-war Warsaw.