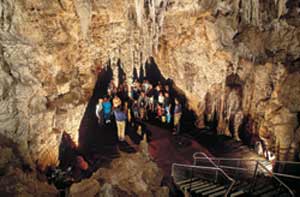 Since 1887 when the Waitomo Glowworm Caves were first explored, people have been attracted to this fascinating network of limestone caves and grottos. The guided tour will take you through stunning underground scenery including the 'Cathedral' with its perfect acoustics.

In Aranui Cave the high chambers, magnificent limestone formations and pale brown, pink and white shades of the huge stalactites are truly spectacular. The experience ends with a boat trip into the 'starry' world of glowworms, where you can marvel at Mother Nature's light display as you glide silently through the glowworm grotto.

The more adventurous may abseil 300 feet (90 meters) into the Lost World or try blackwater tubing through underground streams. Nearby the award-winning Museum of Caves offers information on the facinating geology of this region.