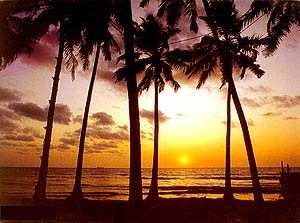 Canals - hire a bike at nearby Negombo and ride along the banks of these Dutch built canals that cover a distance of about 130km.

Fish auction - get up at the crack of dawn to witness the nbelievable spectacle of the noisy outdoor fish market held under a shady banyan tree.

Coconut Research Institute - situated 20km away in Madampe, this makes an interesting and educational excursion.

Mahawewa - the little town is has fantastic batik factories where you can buy reasonably priced fabric.

There is a narrow stretch of long but often scruffy sand. Not very suitable for swimming, especially during the summer season when rough waters prevail.

Other beaches include;

Waikkal beach - a quiet, remote beach not overun with tourists, which is good for suntanning andd relaxing.

Negombo beach - a nice sandy stretch of beach that is surrounded by quaint fishing villages.