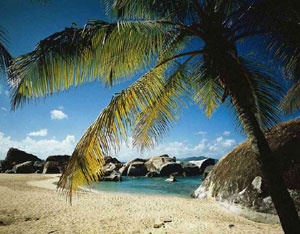 Virgin Gorda offers a nice selection of bars and restaurants, ranging from simple grilled foods to gourmet affairs. Nightlife on the island is limited but best found at the casual pubs on the island where impromptu parties occur with some regularity and visitors do not feel like strangers for very long at all.

Virgin Gorda is popular primarily for its beaches, water sports and for peace and quiet. Visitors with more on their agenda than those simple but idyllic pleasures will be disappointed. The Baths is perhaps the only truly mandatory sight on the island. Giant boulders are strewn along a shoreline of stunning white sand and clear turquoise waters. Enormous boulders create sheltered grottos and passageways between them. The Baths are quite a spectacular sight and swimmers and snorkelers alike can spend days enjoying this fascinating area. Other stunning beaches on the island such as Devils Bay, Spring Bay, Trunk Bay, Savannah Bay and Mahoe Bay await your exploration.

Alternatives to beachcombing include sailing, snorkeling, scuba diving, boating, windsurfing, sea kayaking and horseback riding.

Vigin Gorda's Beaches;

Mahoe Bay:
A beautiful ribbon of white sand with vivid, clear blue water and two live reefs for exceptional close in snorkeling.

Savannah Bay:
North of the Yacht Harbor-another white sandy beach.

Spring Bay:
White sand, crystal clear waters and great snorkeling.

The Baths:
A dramatic combination of giant, granite boulders and a white sandy shore. The boulders form a series of spectacular pools and grottos which flood with seawater creating a dramatic setting. Excellent snorkeling. Go early in the AM before the charters from neighboring islands arrive.

Trunk Bay:
A wide sand beach reachable by boat or along a rough path from Spring Bay.

Day Trips:
Virgin Gorda is in close proximity to several neighboring islands such as St. John, Tortola, Anegada and St. Thomas and is served by regular ferry service. Additionally, there are numerous day sails and boat charters available for island hopping.