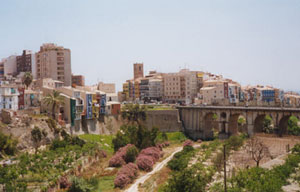 The area has a fine, wide expanse of golden sand curves for ¾ ml, backed by the resort and bounded by the fishing port and marina at one end and a breakwater at the other.

Shopping consists of mainly ordinary shops, there is very little for tourists. There is a weekly Thursday market. Many shops selling the wonderful locally made chocolate.

The daytime offers the local Chocolate Museum (Museo del Chocolate) shows the local chocolate-making tradition dating back to 1881. Exploring the old town and its 16th-century fortified church with baroque-style chapel is a favourite for those looking for culture and history. Fishing boats bringing in their catches in the afternoon and auctions at the fishmarket. Beach based activities consist of sailing, windsurfing, diving and sea-kayaking.

Nightlife is mainy local bars with entertainment. Local nightclub on the road to Benidorm hosts shows. For a more extensive night out there is a full range of entertainment in Benidorm.

Mostly local restaurants, although there are some with international menus, largely along the sea front. Seafood and rice dishes are local specialities.