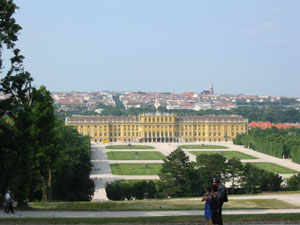 Most of the city's tourist attractions are within the largely pedestrianised inner city area which was once enclosed by the city walls. The walls have been replaced with the Ringstrasse, a wide ring road. Further out in the suburbs is the thrilling Prater amusement park with its massive ferris wheel, and the opulent Schonbrunn summer palace. Visitors also should not miss a trip to the Vienna Woods, peppered with ancient 'heuringen' (wine taverns).

Popular Vienna attractions include:

The Hofburg Palace - or Imperial Palace, was the home of the Austrian Hapsburgs for 600 years.

The Spanish Riding School of Vienna - is the oldest and last riding school in the world where classic dressage is still practised in its purest form.

Museum of fine arts - was built between 1872 and 1891 to house the vast collections then owned by the Hapsburgs who were enthusiastic patrons and collectors of the arts.

Schönbrunn Palace is magnificant, it was used as the summer residence of the Hapsburgs from the 18th century onwards.

Vienna State Opera - The Vienna State Opera performs a repertoire of near-one hundred operas, operettas and ballets every day from September to June.

For something completely different the Prater is an enormous park and fairground site and the location of one of Vienna's world famous sights - the old Riesenrad (giant ferris wheel). (Take S/U-Bahn to Praterstern). Alternatively wander through the Naschmarkt (Produce Market) or the Flohmarkt (Flea Market) located in the sixth district.

Just wandering along the Ringstrasse will take you past some of this city's most beautiful buildings, including the Staatsoper (State Opera House), the Parlament (Parliament), and the Rathaus (City Hall) as well as two of Vienna's museums, the Naturhistorisches Museum (Natural History Museum) and the Kunsthistorishes Museum (Museum of Fine Arts). The latter of these contains an enviable art collection including work by Raphael, Rembrandt and Rubens.