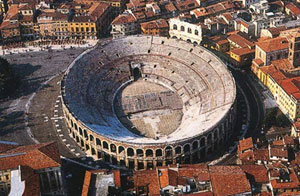 Verona offers lots to interest shopaholics, from tacky Romeo and Juliet souvenirs to top designer garments. A great variety is on offer in the narrow streets around the Arena; several fashion boutiques along pedestrianised Via Mazzini and Via Cappello. A vibrant market is held on the Piazza delle Erbe. Verona is famous for its shoes and local wines.

There are huge dining options in Verona. Expensive restaurants in the historical core, particularly around Piazza Bra and Piazza delle Erbe. Many traditional, good-value trattorias, notably in the Veronetta district. Fast-food options include familiar burger joints. Numerous cafes. A few stalls in the Piazza delle Erbe market. Ubiquitous pizza and pastas. Gnocchi is a local favourite; fish dishes are also popular. Local wines are cheap and highly rated, refreshing ice cream available on every corner.

The line between Italian bars and restaurants is a fine one. Osterie serve food of varying complexity and trattorie often have good, and enormously long, wine lists. There is little tradition of drinking without eating, so the difference is generally one of emphasis - the places in this chapter place drinking above food in importance. In many, however, you can also get an excellent selection of snacks, or even a perfectly good meal. Having said that, Verona's student population add a lively edge to many of the city's drinking spots and some stay open well into the early hours. Wine predominates, though most places also have beer on tap and more interesting and adventurous places such as Al Mascaron and Square mix cocktails, too.

A night at the opera - With a spectacular 20,000-seat performance space in the very heart of the city, Verona has become justly famous for its summer opera season. Enormous, lavish productions take place every night during the summer months, the audience sitting with candles on the original Roman stone seats of the amphitheatre.

Outside of the opera season the Arena is also used for pop concerts. The Roman theatre to the north of the river stages some top-notch theatre productions and there's a varied musical programme of modern, classical and jazz at other locations around the city. Balancing out Verona's somewhat staid reputation, the university influences a more youthful and vibrant side to the arts scene, and there's alternative music and art to be found, too.

Grapes of wealth - Verona is more than just the sum of its arts. The city is an important trade centre and more goods now pass through its venerable old portals than the port of Genoa. Wine is also key to the city's wealth. The vine carpeted slopes of the Valpolicella and Soave regions rise up on either side of the city, which, not surprisingly, plays host to Vinitaly , the country's top wine fair. Olives, too, grow in abundance in the fecund hills to the north, east and west, while, to the equally fertile south, beyond a sprawling industrial area, the Po plain is an enormous patchwork of crop-yielding fields.

Renaissance city - The crasser side of Verona's tourism centres on a bizarrely contrived Romeo and Juliet trail around a series of fictional sites. The city's real and multi-layered history, meanwhile, is more interesting, and apparent everywhere you turn. From the Romans to Mussolini via an unlikely 4th-century African patron saint, and the great artists and architects of the Renaissance, Verona's streets, houses, churches and piazzas combine to tell the fascinating story of this small, but hugely significant, northern Italian city.