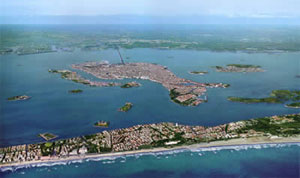 Lido Beach stretches five mls along the south east of the island. Much is segmented into private sections owned by nearby hotels, but public stretches exist with clean, very fine sand. The water is generally considered to be polluted as in Venice itself.

There are many upmarket boutiques, some shops selling local specialities like painted masks, Murano glass and lace.

The daytime is mainly beach orientated with extensive water-sports facilities. Or a trip to Venicefor the day.

The nightlife is extremely limited, with some bars on Viale Santa Maria Elisabetta, otherwise you are restricted to hotel bars.

Restaurants are almost all based in hotels.