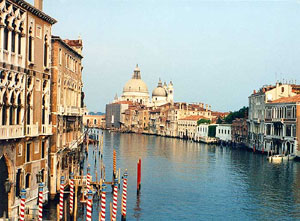 Venice is home to a multitude of museums and art galleries with many that are open to the public. In addition to these permanent exhibitions, there are numerous special exhibitions taking place throughout Venice during the calendar year. Attractions include a visit to ''The Piazza San Marco', including the Basilica and Museo Correr, a cruise down the Grand Canal to spot the important landmark palaces on the way, including the Palazzo Ducale (Doges Palace), as well as the Bridge of Sighs, are definitely worth visiting. The Accademia Gallery with its extensive collection of Venetian paintings and the Rialto Bridge with its surrounding markets are all musts for the Venice visitor.

Venice is famous for its glassware, both good and bad glass, and has a reputation for quality. Traditional festivals are celebrated in most towns and villages in commemoration of local historical or religious events.

The year kicks off with the Regata delle Befana, the first of the lagoon city's 100-plus regattas, held on 6 January (Epiphany).

The major event of the Venetian calendar is February's bewigged, bemasked and berobed Carnevale, the event that's spawned a million pastel postcards of pierrots and columbines looking unduly pensive.

In May there's the Festa della Sensa (Feast of the Ascension), when Venice celebrates the Sposalizio del Mar (Wedding with the Sea).

The Biennale arts fest is held every odd-numbered year in June in the pavilions of the Giardini Pubblici. July's Festa del Redentore is another highlight, with a regatta and fireworks festival.

The Venice International Film Festival, Italy's version of Cannes, is held annually in August at the Palazzo della Mostra del Cinema on the Lido.

The Regatta Storica in September is a historic gondola race along the Grand Canal that's well worth catching. November's Festa della Madonna della Salute procession crosses the Grand Canal via a bridge of boats.