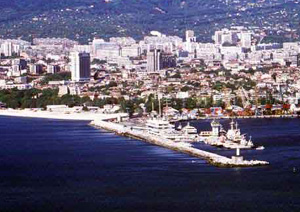 Varna enjoys a mild and pleasant climate, with nice beaches covered with crystal clear sands.

Yacht clubs and marinas offer a wide range of marine sports. The resorts also offer bowling alleys, horse-riding bases, tennis courts, swimming pools, squash courts, and mini-sport complexes for children. Numerous indoor sports facilities include tennis tables, billiards, and fitness centres.

Varna's social life revolves around pl. Nezavisimost , where the opera house and fountain provide the backdrop for an array of restaurants and cafés. The square is the starting point of Varna's evening promenade, which flows eastward from here along bul. Knyaz Boris I. To the north of pl. Nezavisimost, Varna's main lateral boulevard (bul. Mariya Luiza to the east; bul. Hristo Botev to the west) cuts through pl. Mitropolit Simeon, an important traffic intersection dominated by the domed Cathedral of the Assumption .

Constructed in 1886 along the lines of St Petersburg's Cathedral, it contains a splendid iconostasis and bishop's throne, supported by a magnificent pair of winged panthers, carved by craftsmen from Debâr in Macedonia. South of the cathedral in the city gardens stands the 'Old Clock Tower' , a fairly unremarkable structure paid for by the city guilds in the 1880s, whose silhouette serves as something of a trademark for the city.

In general, however, the downtown area is a place in which to stroll and enjoy the vigour of emergent enterprise culture rather than visit specific sights. Most of the latter are to the south and east, among the residential streets between the centre and the port, although the very busy but otherwise undistinguished bul. Mariya Luiza is home to the biggest of the city's museums.