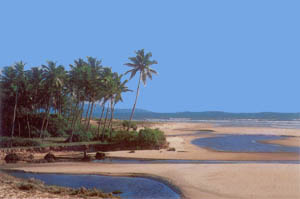 The beaches are part of a broad, 15-mile stretch of light sand with often rough waters of the Arabian Sea. Swimming is reasonably safe close to shore.

The shopping is fairly limited, with just a handful of more tourist-type outlets selling handicrafts, wood carvings and some textiles and materials.

There are many grocers' shops spread along the roadside, and stalls selling fresh local produce. The larger hotels offer more expensive designer shops.

During the daytime there are few amenities in resort itself. Exploring on foot or on bicycles, which can be hired in the village or hotels seems to be very popular.

A variety of sports, including golf and tennis, can be found at the larger hotels. There are fishing and boat trips/tours available.

There is a selection of water sports, such as jet-skiing and parasailing. Access sometimes over low dunes, often with shrubs and trees.

The nightlife here consists of a few small, low-key restaurants and bars in the village itself. Most activity is limited to the larger hotels, which offer varied programmes, including live music, dancing, etc, mainly during the peak season (October-April). There is alsoa casino and nightclub.

Dining is limited mainly to a few low-key restaurants and bars serving local specialities, with fresh seafood being the order of the day. One Chinese restaurant. More choice at the larger hotels, which offer Goan, Indian, Continental and Chinese fare. Also gala nights with beach barbecues. Food is generally of a high standard, with prices to match. Some shack-type bars and eateries dotted along the beach front.