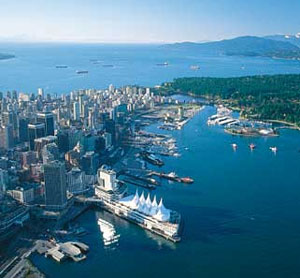 Vancouver has long since been considered one of nature's gift to the people. There are many locations located throughout British Columbia that are so breathtaking and beautiful and at the same time challenging to overcome. The following adventures and sports are provided for those who yearn to challenge the extreme and at the same time, take in the wonders that is Canada.

Deep Cove Canoe and Kayak Centre (North Vancouver) - Rentals and lessons in canoes and kayaks on beautiful Indian Arm.

Vancouver Nature Adventures Inc (Multiple Locations)
Join us for an unforgettable half day guided paddle adventure and salmon beach barbecue in a beautiful mountain inlet. Experience or fitness are not required. This trip is suitable for children and active seniors. Complimentary hotel pick-up. Half day Orca Whale watching safari on comfortable & covered high-speed Zodiaks. Sighting chances 85%. Includes hotel-pick-up and on board lunch.

During the winter months snowsports are the order of the day on nearby Grouse Mountain, perfect for skiing, snowboarding or ice-skating, although the city itself usually escapes a snow frosting and remains green all year.

Vancouver's diversity and combination of mountains, sea and city bustle, offers families an endless supply of things to see and do no matter what time of the year or what the budget. Big sky, big ocean, big snow-capped mountains - it's got the lot.

Science World: There is a whole world of wonder waiting for you at Science World, which has a wide range of activities and shows suitable for all family

The Lookout: Ride straight to the top in the glass elevator at the Harbour Centre Tower. You'll have a spectacular 360-degree view of Vancouver.

CN IMAX Theatre: IMAX and IMAX 3D films provide people of all ages and backgrounds with larger-than-life experiences that motivate, enrich and inspire. Most film are 45min.

Gastown: Named after "Gassy" Jack Leighton, who opened the first bar in 1867. The area has cobbled streets, interesting lighting, a steam clock and reataurants.

Chinatown: Largest in Canada, and largest on the continent, Vancouver's Chinatown is a brilliantly colored, exotic adventure in dining, shopping and sightseeing.

Granville Island: There are an interesting mix of shops, galleries, restaurants and live theatres. And a local brewery is also located here.