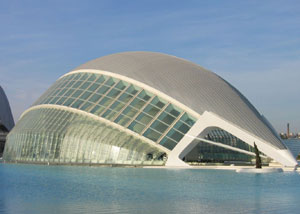 Valencia's nightlife is concentrated in different 'zones' around the city, but the best place to start is the hip Barri del Carme in the heart of the Old City, where stylish restaurants, clubs, and bars are nudged up against each other in the narrow streets.

In 2007, the America's Cup was hosted in Europe for the very first time in its 152-year history and Valencia was thrilled to have been chosen as the venue for this historic race. Parts of the port area have been expanded and improved and were ready for the pre-regatta held in autumn 2004. Huge new improvements to the marina and its infrastructure were completed for the race itself in June 2007.

Valencia is crammed with beautiful shops selling expensive children's clothes, toys and things for their bedrooms. If you want something cheap and cheerful, check out Zara which does cool clothes for kids at reasonable prices.

In recent years, buoyed by the wealth generated as one of the most important ports in Spain, Valencia's local government has invested heavily in the tourist infrastructure and built many stunning landmark buildings to serve as attractions for people visiting the city.

Amongst them, the most popular by far is the strikingly futuristic Arts and Science Centre , which dominates the developments along side the Dry bed of the Turia River , and was one of the most dramatic of all the Millennium projects in all of Europe.

Also of great interest are the Museum of fine art , where you can see works by El Greco and Goya amongst others, and also the institute of modern art , which is located in a modern building and contains a selection of work including pieces by Mondriaan and Dali .

Every year on March 19th, the festival of San Jose takes place and Valencia goes absolutely berserk for the celebration of the Fallas, when the streets are filled with parades, and literally hundreds of Paper Mache figures are burned in order to guarantee luck and peace for the next year. If you can get a room in the city over the Fallas, it's a great time to visit Valencia.