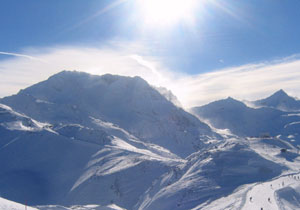 Skiing - Heli skiing:

Snowboarding - Snowparks: 1, Halfpipes: 1

Other Snow Sports - Cross country: 5km, Snow shoeing - Snow shoes available, Telemark - Telemark equipment available, Skidoos:.

There are several ski-schools including the official French ski-school (ESF) which has 300 instructors, many of whom speak English, and various meeting points for instruction in all snow-related activities; children's ski-school, miniclub and day nursery.

There is reasonable variety of shopping facilities in the area, with numerous supermarkets, many boutiques and the usual support services like banks, post office and chemists. As all ski resorts the usual abundance of ski-hire and sports outlets.

During the daytime there is extensive downhill skiing, snowboarding, paraskiing, paragliding, snowmobiling, tobogganing and snowshoeing.

There is also outstanding facilities for indoor sports which offers swimming, sauna, Jacuzzi, tennis, squash, climbing wall and more.

The nightlife is bright but unsophisticated. There are many bars and restaurants, a couple of discos, a cinema, regular classical and jazz concerts, and also torchlight descents.

A Wide selection of eateries offering everything from takeaway burgers to quality gastronomic restaurants and bistros.