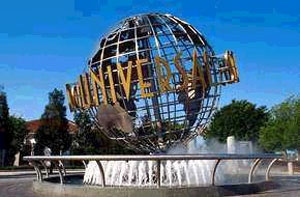 Universal Studios

The ever growing Universal studios is full to the brim with re-created film sets, rides and attractions from some of the most famous motion pictures of old to present day. Popular attractions include: Shrek 4D, Terminator 2, Jaws, Back to the future, Wild West Show, Earthquake, Twister, Mummy Returns..etc, to name but a few. Once you've experienced the thrills and visual effects of the film industry, it's next door neighbour awaits (Islands of Adventure) with the physical thrills of turbulant rides and more traditional theme park attractions.

Islands of Adventure

Islands of Adventure is the more recent of the two parks and is similar in layout to Disney's Magic Kingdom, but with some notable differences. The entire park is filled with completely new high-tech rides, attractions, restaurants and shops. It is super clean, very functional and filled with the latest technology. The park is divided into several themed areas including Marvel Super Hero Island and Jurassic Park. Two of the areas, Toon Lagoon and Seuss Landing, are particularly suited for younger visitors.

The Amazing Adventures of Spiderman ride is possibly the most modern high-tech ride in world. A moving vehicle combined with state-of-the-art 3D holographic technology transports the rider into a visual reality comic book adventure. It is well worth experiencing. There are also several state-of-the-art roller coasters, and plenty of water rides to cool you off. Put this all this together and you get, arguably, the best theme park in Orlando today.

Citiwalk

In addition to the two theme parks, Universal's new Citiwalk contains restaurants, nightclubs, specialty shops and a state-of-the-art movie theatre. Most of the restaurants are based on American pop culture like Jimmy Buffet's Margaritaville, the NASCAR café and the world's largest Hard Rock Cafe.

For fine dining, try popular television chef Emeril Lagasse's restaurant, aptly named Emeril's Restaurant Orlando. The nightclubs are also themed like Pat O'Brien's Orlando, an exact replica of the famous New Orleans bar which was the birthplace of dueling pianos. The specialty shops include names like Fossil, Tabasco Country Store and naturally, the Universal Studios Store. The Universal Cineplex is a twenty-screen movie theatre featuring state-of-the-art sound and picture, and comfortable high-backed tilting chairs. There is no admission charge to Citiwalk, but many of the nightclubs charge a cover charge. You can purchase All-club passes with or without a movie admission.