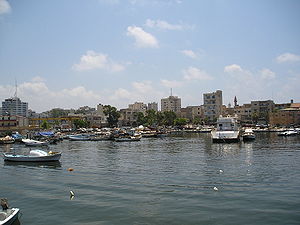 Things to see in Tyre include:
Al Bass Archaeological Site is by far the most famous attraction, boasting the largest and best-preserved example of a Roman Hippodrome. The impressive site is huge and also encapsulates a large Necropolis (with several hundred well-preserved sarcophagi), an intact Roman road and aqueduct, and a monumental arch. Situated next to the Al Bass Palestinian Refugee Camp, it is a 10min car ride from the beach. The Hot Spring Ruins situated in the Christian district, is another impressive feat of Roman architecture which escaped destruction during recent Israeli bombing campaigns. The lighthouse, situated on the north-western tip of the peninsula is a beautiful and quiet spot, perfect for watching the sun go down. Al Gamal, (near the Hot Spring Ruins). This is a rocky beach at the SW tip of the peninsula where the ruins of an old Phoenician port can be seen. There is a number of hut restaurants on the rocks where you can enjoy the sun and food. Swimming is delightful in the clear water and there is a spot that seems like an ancient swimming pool carved in rock, 1 metre deep and some 30 x 20 metres in size. Things to do in Tyre include:
The souq situated next to the Christian district, is a lively and atmospheric marketplace. Although it does not have the splendour of the large and tourist-driven souq in Sidon, some excellent deals can be had for everything from souvenirs to fresh fish caught that morning. The beach is known throughout Lebanon as being the cleanest and most beautiful in Lebanon, with families from around the country flocking there in the summer. During the summer months (May-September) there are a large number of beach cafes which operate from the huts. Prices can be expensive, but it is a perfect spot for sunbathing and enjoying the impressive waves. During the summer, the sea is warm enough to swim in at night, making it a special place.Moreover you cant rent a fishing boat(FLOkA)and take a tour around the seaside of tyre or you can navigate to the rocky islands(ZEERRE) where you can find amazing spots for diving.Also renting a jetski got be fun you can find dealers everywhere around the see. The Christian district at the W tip of the peninsula is a higgledy-piggledy area with thin roads and lovely hidden shops. Its certainly worth spending some time walking around this nice little enclave, though do remember that these are peoples' homes and that you shouldn't enter any open doors unless invited.