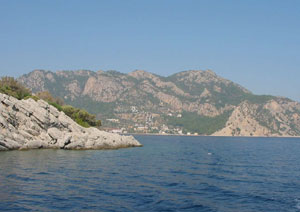 There is a wide selection of retailers, from supermarkets and the usual tourist shops with fake designer T-shirts and beach gear to leather shops and attractive souvenirs. Jewellers in abundance.

In the daytime many spend it lounging by the pool or on the beach. There is water sports from pedalloes to parasailing and jet-skiing. There is a brilliant scuba-diving school offering basic training but limited scope for experienced divers.

Scuba Diving - Diving along the coast of Turunc is promised to be the most beautiful experience ever. The warm and clear turquoise waters deliver the ideal location to dive for certified divers and beginners. Be prepared to be blown away by the riches of the unspoilt beauty.

Boat trips - All you need to do is go to the harbour and pick a boat. There are many different boat trips available to various destinations. There is nothing more rewarding as sailing along the coastline through the crystal clear turquoise coloured waters.

Waterskiing - If you are an outdoors loving person you will enjoy nothing more than waterskiing along the turquoise coast. Also available for entertainment is windsurfing, parasailing and dingy-hiring.

At night, bars play relatively loud music well into the night, but finish in time to allow some sleep. Those seeking to party through to dawn have to head for Marmaris.

There is an impressive selection for such a small resort, with restaurants and bars offering everything from traditional Turkish dishes to a full British breakfast. There is even a Chinese restaurant.