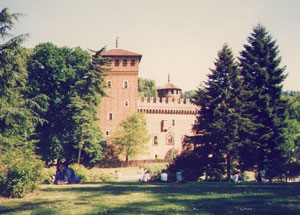 If you plan on visiting several Turin tourist attractions, you should consider investing in the Torino Card , a good-value ticket giving you free entry to over 120 museums and attractions in the Turin and Piedmont area. It also offers various other reductions and free travel on public transport. The card lasts either 48 hours (for €15) or 72 hours (€17), and you don't need to visit many of Turin's sights before you've made a saving. Cards can be purchased at Turismo Torino information points (the main tourist information office is in a pavilion in the centre of Piazza Solferino). A handy brochure gives details and opening times.

Daytime can be spent on walking tours to get the best of the city's baroque architecture, long vaulted arcades and piazzas, 40 museums, including art museums and galleries, the Egyptian Museum, an impressive Automobile Museum and the Royal Armoury.

Popular attractions include:

Egyptian Museum - One of Turin's best museums is the Museo Egizio (Egyptian Museum), reckoned to be the best collection of Egyptian artefacts outside Cairo. Some displays are extremely well-presented, with texts in English, but other parts of the museum await modernisation. There are fascinating reconstructions of burial chambers, and plenty of mummies to delight the macabre imaginations of children.

Duomo and the Turin Shroud - One of the biggest disappointments for visitors is that you can't see the Turin shroud. Although it is housed in the city's Duomo - when not being subjected to testing - the shroud is currently kept safely locked up. A large photograph is the nearest you can get to examining the shadowy impressions.

Piazza Castello - is the hotspot of tourist Turin, home to grand palaces such as Palazzo Reale , the royal palace of the Savoy dynasty, and Palazzo Madama , previously a castle, prison, barracks, senate house, and now a museum. Around the Piazza - and indeed throughout Turin - you will find elegant historic cafes; an important part of Turin life. There are lots of benches around the square, making it a good place to rest from the sightseeing.

Mole Antonelliana and Museum of Cinema - One of Turin's most conspicuous tourist attractions is the Mole Antonelliana . Originally intended as a synagogue, the Mole is a tall nineteenth-century brick building topped by an aluminium spire; a strange edifice celebrated on Italy's 2 cent coins.

Restaurants have plenty of variety suiting all budgets, with numerous cafes, a handful of fast-food eateries, top-quality restaurants and traditional trattorias offering good-value pizzas and pasta dishes. Confectioners offer delicious pastries and chocolates, the Italian ice cream needs little introduction.