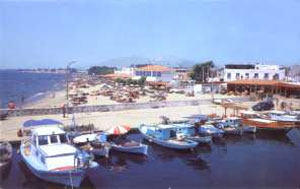 During the daytime the activities are mainly beach-orientated, with some water sports. There are a few attractions to visit, see below....

Light House - It was built in 1931 by the French, in the Kemer district. There is a beautiful large beach at the foot of the light house that was once covered in berries and black woods.

Waterskiing - If you are an outdoors kind of person, you will enjoy nothing more than waterskiing by the long curved beach. The beach is ideal for watersports, also available for entertainment is windsurfing, parasailing and dingy-hiring.

Wind Surfing - Turgutreis is the ideal place for wind surfing with its strong winds and currents, it creates challenging and unpredictable conditions - a windsurfers paradise!

The Underwater Archeological Museum of Bodrum - Located in the Bodrum Castle, it is one of the world's most important and biggest museums. On display are relics recovered from excavation in the 1960's as well as findings resulting from research on sunken ships. You can also find a display of the remains of the oldest known sunken ship in the world, which is definitely worth it to see.

Located in the small peaceful village of Torba, situated 5 km from Bodrum, you will find the most extravagant beaches where the shining sea connects with the green pines and olive trees.

Another definite must see is Gumupluk. One of the oldest settlements of the Peninsula, it is still possible to see the underwater remains of the old harbour wall that connected Tafpan Island to the mainland. Enjoying sun-downers here amist the extraordinary green vegetation will be a life-long memory.

The nightlife here is lively with bars offering live music, discos and plenty tavernas.