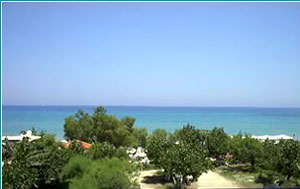 A small resort, with the main accommodation positioned along a 1½-mile stretch, Tsilivi has grown in both popularity and area in recent years; as a result, it is beginning to lose its village feel, although it is still a genuinely friendly place, popular with families. There are two distinct areas: the resort centre and Planos.

Tsilivi Beach with its fine dark sand is around half a mile long and slopes gently into a clear sea, making it ideal for children; part of it is backed by undeveloped fields although this may change given the pace of building work. .

There are plenty of minimarkets meeting all basic needs. A few gold shops which sell hand-made jewellery and plenty of tourist gift shops with the usual souvenirs as well as natural sea sponges.

During the daytime there are water sports on Tsilivi Beach. Other activities include horse riding. Nothing in particular for children to do except enjoy pools and beaches.


The nightlife consists of a few discos in resort centre plus an abundance of bars geared towards family evenings or a fun night out, many show recent films in the early evening and there are also karaoke and quiz nights. Evening horse and carriage rides around resort.

A nice choice of restaurants serving British food (even roasts on Sundays!) or traditional Greek cuisine. A couple of Chinese restaurants and pizzerias. Generally an inexpensive resort.