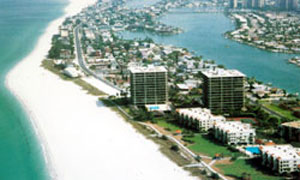 The beaches are large, wide and of good general quality, with plenty of room for sunbathers. They are considered safe and clean, and have lifeguards at some spots. A good range of water sports is available. Beach car parks are open 24 hrs and there is a modest hourly charge.

There are several groups of shops and restaurants, including one near the marina. John's Pass Village is a particularly attractive waterside complex with 130-odd shops and restaurants plus a raised boardwalk overlooking the marina.

During the daytime, Treasure Island's local events include an October fest food, music, arts and crafts festival.

The "Mad Beach Triathlon", in Madeira Beach, is a May athletic contest accompanied by the "Taste of the Beaches" offering good food and music festival.

The nightlife is centered around 8 or so popular bars with rock 'n' roll and reggae music as local favourites.

Restaurants offer an all-round selection. Each Autumn, John's Pass Village in Madeira, hosts the annual John's Pass Seafood Festival, featuring seafood from 30 restaurants and the wares of more than 100 artists.