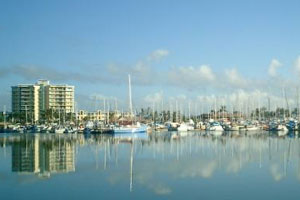 Townsville's many attractions include the world's largest living coral reef aquarium, a wildlife sanctuary, casino, beaches, museums, theatres, galleries and restaurants.

Old gold mining towns, plunging rainforest waterfalls and a relaxed Queensland ambiance add up to Townsville life in the Tropics.

Billabong Sanctuary, Townsville North Queensland is Australia's best interactive wildlife sanctuary. Visitors to the sanctuary join in animal encounters. A series of unforgettable hands on adventures between the guests and Australia's native animals.

You can expect to have the time of your life. Experience the sight, sense and feel of the Billabong Sanctuary's wide range of native animals. Cuddly and cute, slippery and fascinating.

The Museum of Tropical Queensland is the most distant campus of the Queensland Museum. Recognised as a world-class museum, Museum of Tropical Queensland houses fascinating and interactive exhibits on a variety of subjects.

These include a fun view of life in the tropics, plus interactive displays featuring the unique fauna and flora of tropical North Queensland, as well as weird and wonderful creatures from the deep sea and Australia's past.