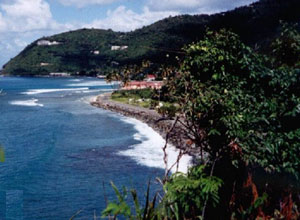 Today's Tortola is undergoing rapid growth at the expense of old-time traditions - such as wooden huts, cows on the loose, feral billy goats and people travelling about on donkeys. As a British Crown Colony, however, much of Britain remains in place - including red Royal Mail pillar boxes.

About 13,000 of some 18,000 British Virgin Islanders live on Tortola. Many, however, are leaving for the bright lights and job opportunities of the next-door US Virgin Islands.


Tortola boasts the highest elevation in the BVI - Mount Sage rising to 1,716 feet. What a view from the top! When Christopher Columbus saw pretty much the same thing, he named the surrounding gorgeous tropical islands after St Ursula's martyred 10,000 virgins.

Tortola remains a gentle, easy-going destination despite the new cruise ship dock and a constant parade of tour buses in Road Town. The three largest bareboat charter operations are on Tortola. There is a wide range of marinas where all boating provisions and supplies are on tap. The best beaches are in the north, especially Smuggler's Cove. On land, the roads twist and turn so much that it takes up to an hour to drive from one end of the island to the other. That's an awfully long time when you consider that Tortola is only 10 miles long and three miles wide.