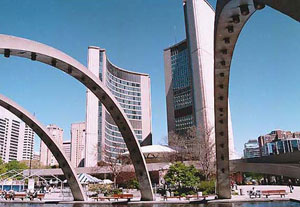 Culture enthusiasts will be just as happy here as shopaholics. There are excellent museums, with everything from dinosaurs and Egyptian mummies at the Royal Ontario Museum to the world's largest collection of Henry Moores at the Art Gallery of Ontario.

Toronto has world-class opera and ballet companies and symphony orchestras. And, after New York and London, it's the third largest centre in the world for live theatre (with more than 125 professional companies), so if you want to catch a show while you're in town, you'll be spoilt for choice.

Like so many other things in Toronto, the cuisine scene has been revolutionised in the past few decades. Where burgers and bland once ruled the roost, there's now a wealth of interesting, affordable food.

Popular attractions include:

CN Tower
The former world's largest free standing tower (surpassed in 2008) is a must see for tourists. The main attraction is the viewing deck on the top floor, which gives a magnificent panorama of Toronto. Those who are brave enough can step onto the glass floor section and enjoy the vertical view.

Stratford Festival
With an ever changing roster of plays in four distinctive theatres, the Stratford Festival is home to classics, dramas, new works and popular musicals. Backstage and costume warehouse tours also available.

Toronto Maple Leafs
Thrilling hockey fans for seven decades, The Toronto Maple Leafs, Toronto's NHL hockey team, now entertain thousands at the Air Canada Centre. For tickets call Ticketmaster at (416) 872-5000.

Toronto Symphony Orchestra
See Canada's premier orchestra perform at its newly renovated home, Roy Thomson Hall, 60 Simcoe St. Experience the energy and excitement of live orchestral music. Programs include classical masterpieces, light classics, pops, kids' classics and special performances. So, take a close look at what's in store.

York Museum
The museum collects and displays photographs and objects which represent the economic, political and social history of the former city of York from its early beginnings to the present day.