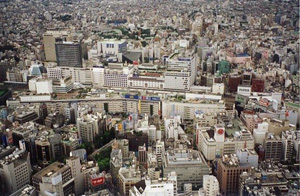 Towards the Shinbashi area is the brand new mini-centre of Shiodome. It's a futuristic city with wide-open plazas, crisscrossed by aerial walkways and a monorail, and houses the ADMT Advertising Museum Tokyo, the Old Shinbashi Station (a reconstruction of the original) and a theatre, as well as a shopping complex and scores of restaurants and cafés.

Also in the Ginza area is the Tokyo Disneyland Ticket Centre. The theme park is out of town, but this ticket office (staff speak English) is open from 10am until 7pm daily.

Tokyo's central business district, Marunouchi, is historically linked to the nearby Imperial Palace. Edo (the old name of the city) came to life in 1457 as Ota Dokan settled where the Palace now stands. Once the shogun decided to rule from here too, his castle became the centre of the city. The Marunouchi area was created as he decreed that all daimyo (feudal lords) must live in Edo for half of the year.

Eventually the castle grounds shrank as the city took on a life of its own, and the palace became isolated. But even today, the Imperial Palace and Marunouchi remains the centre of Tokyo in many senses, and most visitors make a beeline for the Imperial Park. It's directly in front of Tokyo station's central exit, across Hibiya Dori, about 500 metres (160 feet) away. The Imperial Palace is out of bounds, except on 2 January and 23 December, the emperor's birthday.