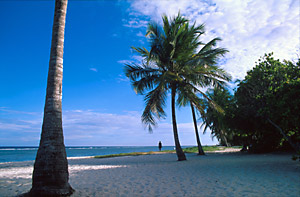 The nicest beach S of Mombasa, a glorious stretch of soft white sand protected by sand bars and an offshore coral reef, both within wading distance at low tide. Beach facilities are limited to those provided by the hotel. Hawkers and peddlers abound on the S part during the day and it is not at all safe alone on the beach after dark. Weed can be a problem July to Sept.

There is no shopping here. The nearest shopping centre is at Diani Beach, 10 mls away.

During the daytime the water sports at Travellers Tiwi Beach Hotel include water skiing, windsurfing, snorkelling and scuba diving. There are squash courts. Some of the cottage complexes have snorkelling gear for hire.

The nightlife is limited to hotel entertainments and 1 beach bar in a cottage complex. It is popular with young backpackers and overlanders.

Eating out is limited to a beach bar serving snacks and simple meals. It is not advisable to drink the local water, stick to the bottled varieties.

Tiwi is 17km south of the Likoni Ferry and it is easy to get a southbound matatu (taxibus) to the junction, but don't attempt the two kilometre walk from the junction to the beach, as this is a mugger's paradise.