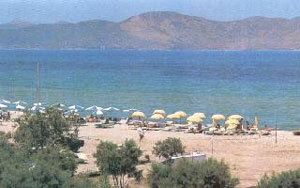 A limited amount of small Tavernas and bars sell the traditional Greek food, which consists of fried or grilled Chicken, Lamb, Squid or Octopus. Most meals are served with lashings of salad, sprinkled with Olive oil. Home style food is hard to find, but can be found here if you look hard enough. Do try the local specials of Mazes( a combination of local dishes), Souvlaki( kebabs), Stifado( traditional stew) and the Fish.

Shopping is limited to a few tourist outlets and minimarkets; there is no bank. More choice in nearby Kos Town.

Entertainment in the daytime mainly consists of beach activities and water sports, particularly windsurfing but also jet-skiing, parasailing and banana boats, off the beach offers horse riding and cycling.

There is not much nightlife in this resort. Mainly consists of 6 or 7 music bars that stay open late, but little else. A trip to Kos Town for the more vibrant types.

A number of greek tavernas and restaurants are strung along the beach front and main road, ranging from traditional Greek cuisine to Italian, Mexican and Chinese.