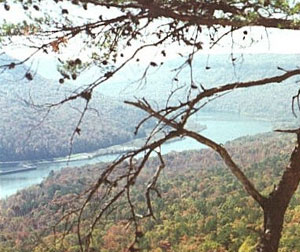 Things to do and see in Tennessee include:

The Great Smoky Mountains National Park - is a World Heritage Biosphere Reserve and draws millions of visitors from around the region and the world annually. Covering nearly 1,000 square miles it is home to temperate rainforests and some of the rarest and most unique plant life in North America. The park currently suffers from high levels of air pollution due to surrounding cities such as Knoxville and Sevierville as well as the numerous coal-fired power plants of the Tennessee Valley Authority. Traffic congestion is fairly severe within the Park's Cades Cove "loop," as many people stop to take in the vistas of the sprawling valley and its many deer and bears that freely roam the area. If you plan to go, car pool if you can.

Rock City - is a roadside attraction near Chattanooga, Tennessee, on Lookout Mountain in Lookout Mountain, Georgia, located near Ruby Falls. It is well-known for the many barns throughout the Southeast and Midwest United States that have the slogan "See Rock City" painted on their roofs and sides.

Graceland - is a large white-columned mansion and 13.8 acre estate that was home to Elvis Presley, situated in Memphis. It currently serves as a museum and has become the second most-visited private home in America with over 600,000 visitors a year (2nd only to the White House).