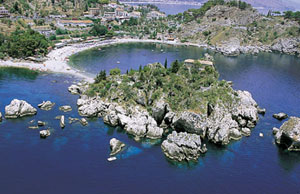 Taormina has only one truly unmissable tourist site, but the town and its location are attractions in themselves. There's plenty to keep the visitor occupied for at least a couple of days.

Taormina, where Hollywood celebrities travelled to receive awards in the Teatro Greco, where a jealous Elizabeth Taylor broke a guitar over Richard Burton's head, and where Goethe and DH Lawrence marvelled at the views towards Etna, is a hill-village with a glossy sheen of glamour. A drink at the tables of Caffè Wunderbar in Piazza IX Aprile may set you back a few euros, but you'll be basking where Tennessee Williams and Elizabeth Taylor basked before you.

Not far from the Teatro Greco, around the back of the Chiesa di Santa Caterina, are the ruins of a smaller Augustan-era theatre, which can be viewed through railings on the street (a small section of paving is also visible inside the church). Below Corso Umberto, on Via Naumachie, is what is known as the 'Naumachie', a massive wall, whose arched niches concealed a vast water cistern as well as buttressing the road above. The strip of land in front of this wall has been made into a narrow public garden, with a somewhat surreally-sited barber's shop opposite. A number of ancient necropoli, are dotted around the area: some Byzantine grave-niches are visible on Via Pirandello just below the Belvedere, and a more dramatic necropolis above the town can be seen from the Castelmola - Taormina footpath.

Taormina is situated high above the sea, with views over the beaches below, including the beautiful bay of Isola Bella. Isola Bella itself is a lovely nature reserve. This rocky little island also once belonged to Florence Trevelyan, who built a small house and planted bushes here. Tours and activities such as snorkelling can be booked. For the energetic, it's possible to descend on foot, either to the bay at Mazzarò or that of Isola Bella (from the Belvedere on Via Luigi Pirandello) or at Villagonia, near the railway station (using steps descending from Via Bastione). In season, there is also a cable-car ( funivia ) running from Taormina down to Mazzarò, while there are buses running between Taormina and the beaches all year round.

Taormina has masses of restaurants, and some are quite reasonably-priced, although you should be prepared to pay a cover charge ( coperto ) of 1-2 euros per person. There is a huge choice, from fast food and snack bars, family-run trattorias and pizzerias with outside tables, to very elegant upmarket restaurants with panoramic views. There are several fish-speciality restaurants in Mazzaro.