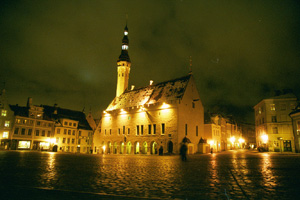 Visitors are often surprised that a city as small as Tallinn has such a variety of after-hours entertainment to offer. There's something to suit every taste, from the quiet sophistication of a cigar lounge to the raucous mania of a packed nightclub. When making plans for an evening on out in Tallinn though, it's wise to keep in mind the specifics of the city's night scene.

Most nightlife activity is contained in the area in and around Tallinn's compact Old Town. The advantage of this particular geographic quirk is that, instead of picking a specific destination, visitors can peek into several venues, many of which are just meters apart, to see which has the most interesting crowds and music.

Timing is also an important consideration. Much more so than any other night of the week, Friday is when Tallinn's night activity reaches its peak, going at full steam from about 11pm to 3am. Thursday and even Saturday, while still active enough, are somewhat less charged, with the rest of the week quieter still.

It's also worth mentioning that Tallinners are generally a friendly lot, but unfortunately not everyone in the city has a tourist's best interest heart. As always, common sense and moderation are recommended for a safe night out.

Take a Half day trip to the nearby picturesque medieval town of Pals, or the nearby small resorts of Llafranc and Calella de Palafrugell, but must include the Cap Roig Botanical Gardens and Castle, San Sebastian Mountain and lighthouse for stunning views. Take a full day trip to the amazing cities of Gerona and Barcelona.

Tallinn`s late Gothic Town Hall building is one of the most famed symbols of the city, recognized throughout Estonia as a venerable, unique architectural treasure

St. Olav's Church was the tallest church in Medieval Europe. The earliest data on St. Olav's Church come from 1267. Little is known about the building of this Gothic style church and its early years, but there may have been a church on this location as early as the 12th century, alongside the Scandinavian market yard.

Rocca al Mare is an area on the sandstone banks of the southwestern coast of Tallinn's Kopli Bay.

The name "Rocca al Mare" alludes to its seaside location - the "cliff by the sea". The name comes from A. Girard de Soucanton's summer estate, built in 1863. Neighbouring estates later borrowed the name, and today it applies to the entire region. Several of Tallinn's worthy sights are located in this area. The area has become an attractive centre for spending free time, with cultural events, relaxation, sporting and shopping opportunities.