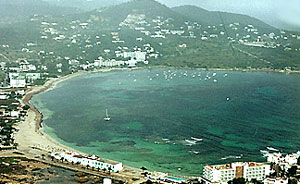 The main stretch of beach between the 2 sections of the resort is predominantly sand with the sand all but completely disappearing at the N end. The best bathing is from the small beaches close to the ferry dock.

As far as shopping, there is nothing outstanding. There are a few local shops selling everyday provisions. Much larger and more upmarket selection in Ibiza Town.

Entertainment in the daytime is limited, mainly to beach activities.
The nightlife is no where near as busy as its local neighbour. There are a few bars and a casino nearby, on road to Ibiza Town.

There are a few snack bars and a couple of restaurants including a Chinese. Nothing out of the ordinary, although there should be something to suit most tastes.