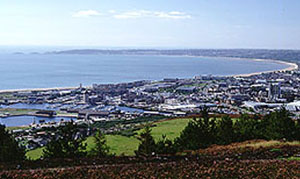 Swansea's most famous son is the poet Dylan Thomas, and you can follow his life from his childhood in Swansea to his death in New York in the permanent exhibition at the Dylan Thomas Centre . There you will find unique archive material, original sound recordings (from famous works such as "Under Milk Wood"), and a "spelling wall" with magnetic words taken from Dylan's poems.

An amazingly compact space, Swansea has it all, beautiful parks and gardens, world class cultural facilities, spectator sports and lots of shopping! The city is home to Wales biggest indoor market where you can sample traditional Welsh delicacies, like cockles from Penclawdd, caught fresh on the day you buy them!

The Maritime Quarter is a new development, using exisitng historical buildings and turning them into modernised architectural spaces. The Marina houses luxury flats, hotels and shops and will shortly be the new home of the National Waterfront Museum, detailing Wales' industrial and maritime heritage.

From medieval castles to award-winning parks and gardens, the outdoors offer an almost unlimited variety of attractions within a few minutes drive of each other. A vibrant cultural and entertainment scene will delight children and adults alike with colourful pantomimes, unique exhibitions and a fascinating insight into the area's natural and industrial heritage.

Things to see and do in Swansea:

Dylan Thomas Centre, Swansea

Swansea Museum, Swansea

Singleton Park and Botanic Gardens, Swansea

Neath Abbey, Neath

Margam Country Park, Margam

Gower Heritage Centre, Gower

Oxwich Castle, Oxwich

Whether you choose to savour the atmosphere by the seaside, in the city's vibrant café quarter or in quiet countryside pub, you'll find that Swansea Bay has something for all tastes. From traditional Welsh delicacies to the more exotic flavours of faraway lands, you're in for a special treat!