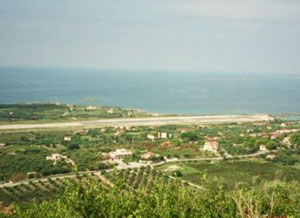 Entertainment in the daytime consists of visiting the local beaches, wine tasting at nearby fruit farm, cycling or walking in the surrounding area, taking in the garden village of Kourkoumelata and Metaxata, where Lord Byron stayed in 1823. There is also a good go-kart track called Imola, just off the road from Svoronata to Avithos, which is open from about 5.00pm every evening if you fancy burning off a bit off energy after all the lazing around! It costs 9 euro per person for about 15 minutes.

The nightlife is mediocre, it is all centred around the local tavernas; for livelier options, try Argostoli and Lassi.

Avithos beach is about a mile from the centre of the village, it's beautiful and remains uncrowded all season. Avithos is ideal for children as the water is shallow, and there are 2 tavernas at the beginning of the beach, and space to park.

For eating out, there are a handful of tavernas, including a touristy cluster near Ammes Beach, offering the usual Greek/Anglo fare, and fresh fish is the local area's speciality.