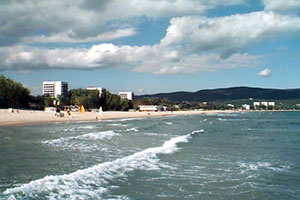 There are several big shopping centres provide plenty of opportunities to search for clothes, souvenirs and food.

Over 130 restaurants and taverns cater to foreign tastes with a wide range of cuisine. Eating establishments range from the authentic British Red Lion pub for the homesick, and traditional Bulgarian mehanas, to an unusual Bulgarian experience offered at the Hanska Shatra (Khan's Tent), which has a superb setting, mosaic interior and live folk music, but is expensive and touristy.

Nightlife is varied and ranges from nightclubs, discos, casinos and bars, to cafes, folk-style spots and a variety of acts and entertainment in the local taverns.

Besides sunbathing and swimming, the resort offers so many water and land-based activities that it is impossible to get bored. Sports include windsurfing, sailing, waterskiing, parasailing, beach volleyball, mini-golf, horseriding, climbing, cycling and tennis, and there are also fitness centres, swimming pools and spa treatment centres. Coaches and equipment are provided. Children are more than adequately catered for and will find an endless supply of organised activities, competitions and playgrounds.

The beaches consist mainly of sand with some shingle, stretching for 5 mls, it is broad in most parts and gently shelving so suitable for younger children. There is a wide variety of water sports available on the beach.