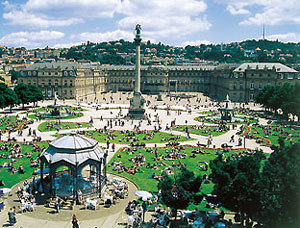 Schlossplatz and Neues Schloss: Stuttgart's most beautiful square, in the city centre

Wilhelma: Europe's biggest combined zoo and botanical gardens, set in a Moorish park

SI Erlebnis-Center with the Apollo Theatre, Musical Theatre, Casino, theme restaurants, shopping malls, cinemas, sauna and Vitalbad baths

Mercedes-Benz and Porsche: Museums of the world's oldest car manufacturer and the famous sports car manufacturer

Fernsehturm: The world's first broadcasting tower made of steel-reinforced concrete

Bohnenviertel: Bohemian quarter in the Old Town with wine bars, popular pubs and antiques shops

Altes Schloss: Renaissance schloss, now home of the Württemberg State Museum

Neue Staatsgalerie: Masterpiece of post-modern architecture by James Stirling, outstanding collection of classic modern art

Alte Staatsgalerie: Painting from the Middle Ages to the 19C

Galerie der Stadt Stuttgart: Otto Dix collection

Weissenhof estate: Built in 1927, designed by leading Bauhaus architects

Markthalle: Fully preserved art nouveau market hall with a wealth of international culinary attractions
More than 40 theatres, 30 art galleries and numerous museums, including car museums, the Wine-Growing Museum, the Hegel House, the Linden Ethnology Museum and the Carl Zeiss Planetarium.

The exciting metropolis is a great city for young people, with a non-stop program on 365 days of the year. Experience budget culture by day with the Stuttcard.

Nightlife attractions include hip-hop, jazz, Thursday Night Skates and a wealth of other activities.

Stuttgart is a veritable paradise for shoppers, with something for every taste and budget, including big department stores on the 1km long Königstrasse, elegant shopping malls, exquisite little boutiques in the Old Town and lowprice factory outlets.