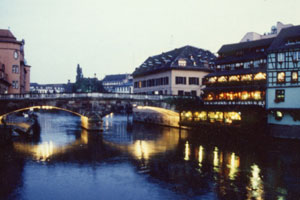 The Cathedral - The cathedral of Strasbourg stands on a large paved square since the Middle Ages. Its construction took nearly three centuries, from the oriental parts begun in 1176 to the spire finished in 1439. The spire and the facade are the most remarkable elements of the cathedral. The main facade, made of pink sandstone, is of a fantastic ornamental wealth.

The Fine Arts Museum - Situated at the first floor of the Palais Rohan, it presents a very beautiful collection of Italian, French, Spanish, Flemish and Dutch paintings, of the XIVth century up until 1870. Works of Giotto, Memling, Botticelli, Raphael, Le Correge, Veronese, Le Greco, Ribera, Philippe de Champaigne, Vouet, Claude Lorrain, Rubens, Van Dyck, Ruysdael; and many more are on display.

The Place de la Republique - It is cornered by five official majestic buildings caracteristic of the architecture under the reign of the Prussian emperors after 1870. In the center, a monument stands to honor the dead, erected in 1936 by the sculptor Drivier. It represents a mother with her two sons, one dead for France, the other for Germany, a dramatic situation experienced by the Alsatians during both world wars.

There is a wide assortment of good restaurants, including ethnic. Regional specialities include sauerkraut, sausages, hams, 42 different kinds of pate and kidney, chicken, trout and salmon dishes.

There are several department stores, myriad boutiques, all the fashionable names. Splendid epicurean products (pate de foie gras was invented in Strasbourg), glassware, pottery, carved wood, dolls, printed materials and artificial flowers. There are flea markets held on Wed and Sat.

Daytime offer strolls around Grand Ile, the cathedral with its astronomic clockthe Museum of Modern and Contemporary Art, the Rohan Palace including a fine arts museum, the museum of decorative arts and archaeological museum, an Old Butcher's Hall housing folk-art museum.

Nightlife brings an active opera and theatre companies, more than 30 cinemas showing films with French subtitles, a choice of discos and bars, all easily sniffed out by devotees.