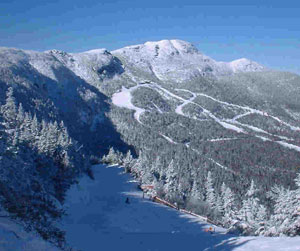 Skiing - Night skiing available.

Snowboarding - Snowparks: 3, Halfpipes: 1, Boarding on all pistes.

Other Snow Sports - Cross country: 150km, Cross country equipment available, Snow shoeing, Telemark, Telemark equipment available, Sleigh rides, Skidoos:

Daytime offers a lot of winter activities including extensive downhill skiing and snowboarding on Mt Mansfield and gentler Spruce Peak, miles of cross-country trails from 4 interconnected centres, snow-shoeing, sleigh rides, snowmobiling and ice-skating. There is also swimming at public pool. And for a bit of culture the Stowe Winter Carnival which is held in January.

In the summertime you will find hiking, fishing, canoeing, kayaking, horse riding, mountain biking, golf (4 courses within a 10-ml radius), tennis. There is the balloon festival in July, also regular Von Trapp open-air concerts.

The nightlife although certainly not riotous and perhaps not the best option for the younger crowd, there is a good choice of lively bars, European-style pubs and restaurants along the main street and dotted along the mountain road towards the ski-area.

There are several dozen restaurants, snack bars and cafes in the resort centre, along either side of the road to the ski-slopes and within most hotels and resort complexes. Choice of cuisine, from the mundane to the sophisticated, and including typical button-popping America steaks, chicken and seafood, Mexican, Italian, French, Chinese, Thai and 1 or 2 international fast-food establishments.