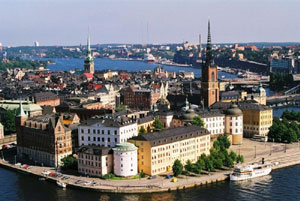 Shopping in Stockholm is a treat for most visitors, but many items are comparatibly expensive. The city offers a wide selection of goods, manufactured in Sweden as well as international imported products. Please find below advice on Shopping, from where to shop to what to buy. Most of the shops are centrally located in "Drottningsgatan", "Hamngatan", "Kungsgatan", "Hötorget" and the famous "Stureplan".

For the foreign visitor it is strongly recommended that they take the opportunity to taste proper Swedish delights. The most traditional is the Smorgasbord, split pea soup, meat balls, marinated salmon or herring or roast reindeer. Lunch is mostly served between 11:00 - 14:00 and dinner between 17:00 - 23:00 in most restaurants. Many lunchtime offers are discounted and might have value added extras. Below a listing of Restaurants that are well known or have been tried and tested or finally recommended to us.

Many of the clubs and restaurants in Stockholm have got blackJack tables and Roulelette, with a nominal maximum stake of 5 Kronars per round in most places. Different places to play for fun, however there are places for proper gambling with heavier stakes.

Spirits, Wine and beers containing more than 3.5% alcohol by volume are sold only in the government owned "Systembrolaget" shops. Do not go there on Fridays and do not over stock, people will look at you. The minimum age is 20. Open on week days until 18:00.

It is both informative and good fun to see a city from on high. Stockholm offers a variety of superb views.

There are many choices of sights and Stockholm caters for every travellers need. From museums, fantastic architecture to old traditions, no matter what one is searching for Stockholm has it.

Popular attractions include:

Långholmen Prison Museum -Not an Alcatres, but also a prison Island just in the outskirts of Stockholm. An old 250 year history of Prison life is available to anybody interested. Open Daily from 11:00 - 16:00, located in Kronohäcktet on the island Långholmen.

Junibacken -The home of Pippi Longstocking, the rebellious redhead from Astrid Lindgrenäs stories has been read by children all around the world. Visit Pippi and other Astrid Lindgren characters. Make sure you buy ticket in advance as there is limited space. Tel 00 44 (0)8 587 230 0000, open Wednesday-Sunday from 10:00.

Aquaria Water Museum - Open Tuesday to Sundays from 10:00 - 16:30. See large sting-rays, scalpel fish, sharks and living corals. The buses 44 or 47 will take you there or take the tramcar 7. Located in Djurgården.

Butterfly House - Located in Haga Parken you will here find the most fantastic species of Butterflys and birds living in a natural environment.