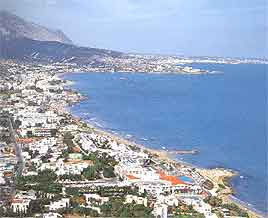 There are several reasonable sandy beaches divided by small rocky areas. As far as Greek standards go, these are good beaches. Many of the beach access points are small alleys, often incorporated into neighbouring bar and restaurant properties. Sun loungers and shades available.

Many minimarkets cater for most everyday requirements, and carry beach paraphernalia and some souvenirs. There are small arts and crafts shops specialising in locally made items offer less tacky souvenirs, jewellery, clothes and local produce. For more extensive shopping needs, it may be necessary to visit neighbouring Hersonissos or make a trip to Heraklion

Daytime consists of the beach, there is not much else to do in the area.

Local excursions can be organised. Try full day boat trips to the neighbouring islands of Santorini or Spinalonga Island. Try trips to archaeological sites, including impressive Minoan palace at Knossos combined with Heraklion Archaeological Museum.

The Nightlife offers numerous bars and restaurants and a few discos. Most accommodations offer "Greek nights" or barbecue evenings roughly once a week in high season.

As in the majority of Greece there is a majority of snack food and mid-range taverna-style restaurants with menus and dishes from several European countries. There are also a few more upmarket restaurants, usually found in the better hotels.