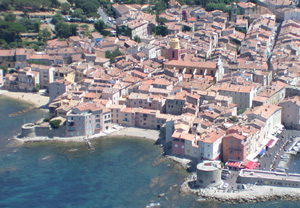 La Musee de l'Annonciade - This will be a treat for art lovers, with its collection of paintins by Derain, Signac and other artists. Many of the works are of recognisable sights in and around the area.

Musee Naval - This museum is situated in a 16th century citadel above the city's port and will be of interest to all WW2 memorabilia enthuisiasts.

Grimaud - Get away from the bustle of the city and take a trip to this nearby port. A quaint, picturesque village with stone houses, fountains and a church in the centre- complete the picture with a castle on top! The interesting antique shops and boutiques make for enjoyable browsing too.

Pampelonne - Throw away your costume and go au naturel on this super famous beach situated outside of St Tropz. You will need to take the shuttle from pl. des Lices to get there. Hop off at Capon-Pinet to get to plage Tahiti, which is the beginning of this stretch of beach.

Plage des Graniers - If you dont have the time to travel, this nearby beach is just 10 minutes from the old port along chemin des Graniers. You will probably avoid the crowds too, as they will have all rushed off to Pampelonne. But hey the sunshine is just the same here and you'll get a better spot to stretch out on.

Ile du Levant - A whole nudist island- a sun worshippers dream with beaches to choose from. This island is part of the Iles D'Hyeres just of the coast of St Tropez. This island used to be inhabited by a settlement of monks; they would be most afronted to see the place today as most of the inhabitants stroll about in the "altogether" most of the time. Must save a lot on laundry expenses. Don't forget the sunblock for those sensitive areas.

des Lices - Experience the hustle and bustle of the morning market held here. Pick up a bottle of lavender water, aniseed flavoured Pastis or other local product as an alternative to the usual expensive mass produced souvenirs. Markets usually finish at noon and are stocked with local specialities.

Pop into a boulangerie or pastisserie for famous fresh French pastries and breads, or the epicerie fine for typical French delicatessens. The French are reknown for their food, therefore as much variety of this must be sampled whilst you can.