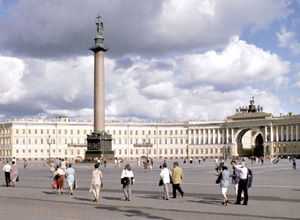 The city of St. Petersburg is one of Russia's main entertainment centers. The music scene is diverse and colourful: the majority of most well-known Russian rock bands have originated from here.

Movie theatres equipped with advanced sound reproduction systems demonstrate the latest Western films. The city also has a great diversity of high-quality restaurants, bars and night clubs.

The prices are very affordable in comparison to those in any other large European city, including Moscow.

One of St Petersburg's most famous attractions is the not-to-be-missed Hermitage Museum , probably the largest in the world with incredible exhibits.

The Kirov Ballet , now known as the Mariinsky, is housed in St. Petersburg. To us in the West, it is probably most renowned for its three famous dancers, Rudolf Nureyev, Natalia Makarova, and Mikhail Baryshnikov, and their defection to the West

The Winter Palace is another sight not to be missed with its splendour and grandeur.